Celebrate
Earth Day

by
recycling your
About Toronto
Homelessness
Homelessness is a complex, urgent and growing issue in Toronto. There are approximately 8,500 people in Toronto who are experiencing homelessness, many more are experiencing "hidden homelessness", and thousands of others are on the wait list for supportive housing.
Toronto has a shortage of affordable housing. Many individuals experiencing homelessness rely on temporary shelters, emergency services or a friend's hospitality. Others live "rough" in the city's parks, ravines, and alleys. Finding a safe, affordable place to live can be difficult. Homes First is here to help.
Statistics on Homelessness
On any given day over 8,500 people in Toronto are experiencing homelessness.

For every 10,000 people in Toronto, 30 are homeless.

In 2018, nearly half of Toronto's homeless population reported being homeless for over 6 months, which makes them chronically homeless.

Over 30 per cent of Toronto's homeless live with a mental health issue, and over 25 per cent live with an addiction.

94 per cent of those experiencing homelessness in Toronto want permanent housing, but face barriers in securing it.


80 per cent said they need more affordable housing options.

In the past 10 years, average market rent for a one-bedroom has increased by 33 per cent. In that same time, Ontario Works shelter benefits have increased only 10 per cent.
Thanks for your interest in Homes First! Below are some common questions (and answers) about Homes First. If you require additional information please reach out to admin@homesfirst.on.ca
Q: Who does Homes First serve?
A: Homes First serves the hardest to house. This includes those living with complex needs like mental health and substance use issues, as well as other physical and health needs. We house single adults, men and women, some families, and an aging population. We focus on people who have been living rough – in parks, ravines and on the streets – for a very long-time, and work to give them stable, supportive, long-term housing.
Q: I want to apply for housing. How do I do that?
A: Thank you for your interest in Homes First. For information on our housing, please visit our "I Need Help" section. Please note that our waitlist is currently closed. We currently have a waitlist of over 4,000 people for housing with Homes First. If you have been placed on the waitlist, we cannot provide updates on the progress of your housing application.
Q: I sent a housing application (blank) months/years ago and I haven't heard back. What is happening with my application?
A: Thank you for sending a housing application to us. Unfortunately, as of July 2019, our housing waitlist is at 4,000 people, and we are unable to follow up about the status of your application.

Please note that Homes First does not go through its waitlist in chronological order. Instead, applications are assessed based on the needs of the applicant and if Homes First has a suitable space for them. You will only be contacted if we deem that we have an appropriate unit for you.

Please do not call or visit our office to inquire about housing applications. Again, if you do qualify for housing with us, you will be contacted.
Q: How does Homes First deal with residents' mental health support, opioid use, and similar issues?
A: All staff and volunteers are trained to work with individuals with complex mental health, substance use, and life skills issues. We have several community mental health partnerships such as CAMH (Centre for Addiction and Mental Health) and teams that deliver mental/physical health supports into residents' homes.

Staff are provided a variety of training such as de-escalation, conflict resolution, crisis prevention intervention, motivational interviewing, inclusivity training, and more. All staff use a trauma-informed approach in working with our residents.
Q: Is Homes First affiliated with any similar organizations elsewhere in Canada or the United States? Is it run by the City of Toronto?
A: No. Homes First is an independent Canadian charity and not formally part of any other organization or government agency. However we work closely with the City of Toronto and other agencies in the city, including health care providers, mental health supports, and more, to share insight and expertise on creating a multi-faceted approach to ending homelessness.
Q: Where does Homes First get its funding from?
A: Homes First gets funding from a variety of sources. Our funding is like a quilt; we piece together different patches from different sources to make up our whole operating budget. Homes First is a United Way Greater Toronto partner agency, and works closely with the City of Toronto to operate our shelters.
Nicole's Story
at Homes First
Nicole never thought she would live in a shelter. Though she was luckier than most, having only spent a few months in the shelter system before securing a supportive housing unit with Homes First at 90 Shuter St., Nicole still faced a debilitating systemic barrier: food insecurity.
According to the City of Toronto, 1 in 5 households experience some sort of barrier to regular access of nutritious food. In Nicole's case, she had several complex health challenges that made holding a job difficult, especially without often-over-stretched social supports. Among low-income and homeless Torontonians, food insecurity often presents as an emergency; far too many live with the constant fear of running out of food, choosing less healthy and/or inexpensive foods, or completely skipping meals just to get by.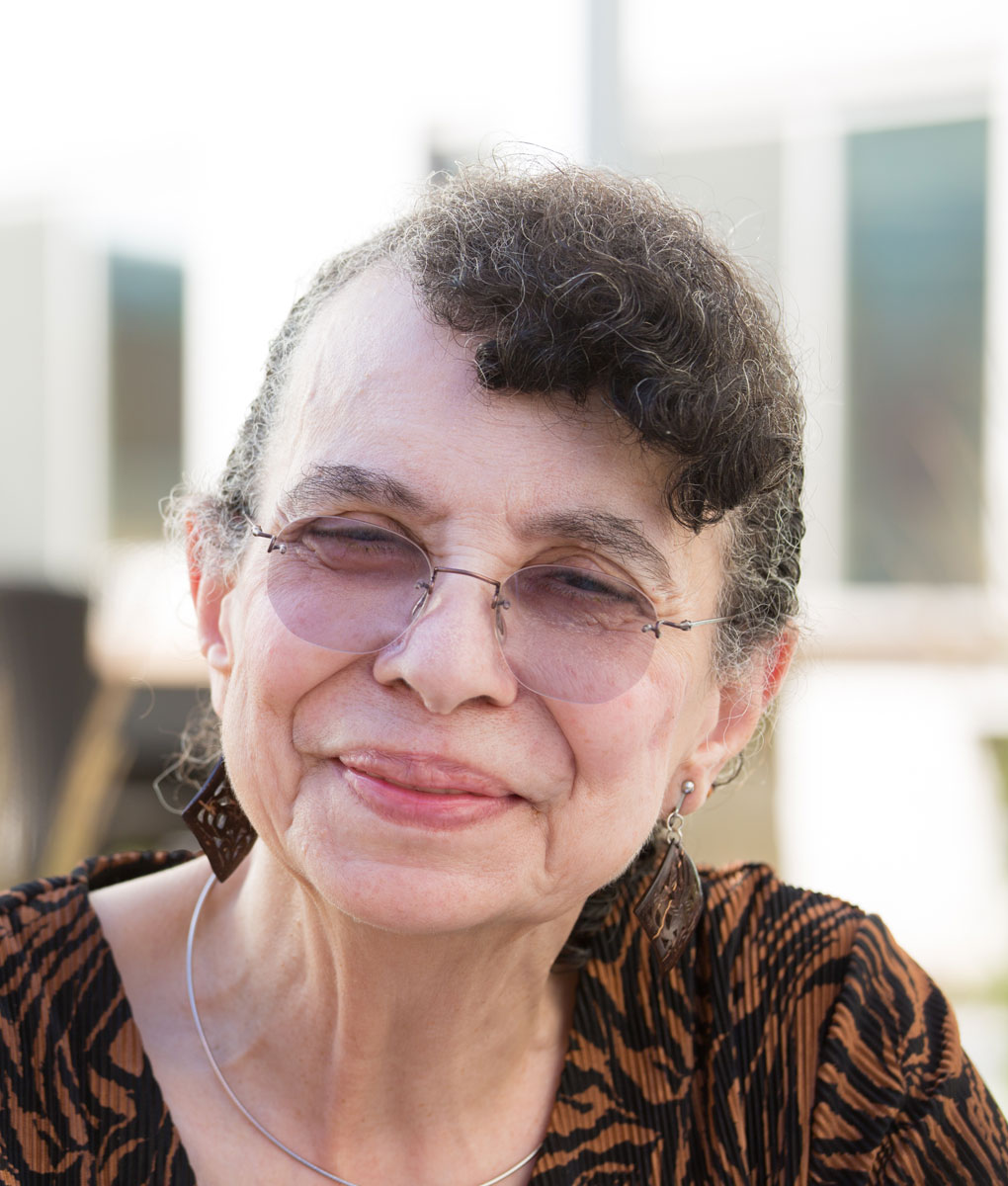 Homes First's operations are guided by resident need and the commitment to assist them in maintaining their housing; for many of clients, such as Nicole, Homes First's provision of/access to subsidized meals is one piece of the puzzle.

Once Nicole had regular access to nutritious meals, her overall health began to improve, offering the energy needed to connect with her new community at Shuter. Nicole began volunteering to help with community meals each week, and the karaoke nights.

"The karaoke was the best was the best part. Getting to know the tenants in the building, what they're about and why they're here … you didn't feel like you were the only one."

Then, the opportunity to be a peer-leader in a diabetes prevention program came up, and despite some initial hesitation, Nicole was the perfect fit. She gained the confidence to lead workshops on her own when her other peers and program coordinator were unavailable; at the end of the 18-month program, Andrew was one of two peers who remained for its entirety.
"That was eye opening," she says.


Nicole's story demonstrates the health and socio-economic benefits of stable and consistent access to food; eradicating chronic homelessness in the City of Toronto begins with someone's sense of self-worth and wellbeing, both of which are improved by Homes First's resident meal programs.


Many of our residents can share a similar experience to that of Nicole's; to eradicate hunger amongst our residents, Homes First has developed a robust internal strategy. In early 2022, Homes First will be launching the first stage of our Centralized Food Program (CFP) from an interim kitchen, while construction begins on a commercial kitchen at our Sheila Miller supportive housing site, which will serve our entire agency. In addition to the provision of existing community meals at housing and shelter sites, the CFP will produce individualized, frozen-ready meals for our most vulnerable residents.


This past summer, Nicole moved out of 90 Shuter after living there for six years. When asked what she will the most, she says the people she's met, staff and roommates here that made her experience a good one.

"I want to tell them all thank you for their support and for helping me out. I will miss you guys."
Below are some significant resources and articles in the housing and homeless sector we'd like to share.