"The community that we serve is resilient, brave, courageous and loving."
Today is International Transgender Day of Visibility, which celebrates trans people and raises awareness of discrimination faced by transgender people worldwide.
At least thirteen countries criminalize transgender people, and only 96 countries have processes to allow trans people to change gender legally. In 2021, Canada became the first country to collect and publish data on gender diversity from a national census.
Since the start of the pandemic, queer and transgender people in the GTA have experienced some of the highest rates of homelessness and mental health struggles due to COVID-19. According to the City of Toronto's 2021 Street Needs Assessment, 3.2 per cent of our city's homeless population identify as trans, non-binary, and/or Two-Spirit.
The trans community is also at a higher risk of gender discrimination and violence, including in the shelter system. Last year, we partnered with The 519 to open Toronto's first dedicated shelter for 2SLGBTQ+ refugees, with a focus on trans women, and provide a safe place to call home.
Elton McDuffus is the site manager, who works on partnerships and addressing challenging issues our clients face. Today, the shelter is raising a Trans flag for clients to write messages of empowerment, love, support, grievances, and to legislators about the importance of Trans lives.
What sort of response have you received from clients/the community?
The response has been amazing, the clients are happy about the space being very inclusive and diverse with delicious meals and a supportive staffing team. The community also has shown good faith by giving words of encouragement, providing donations and even offered some partnerships so that additional services can be extended to our clients.
Why do you think it's important to have a shelter catered specifically to the trans community? 
It creates for a safer space for expression and a holistic approach to addressing issues directly affecting Trans folks, gender-diverse people and the LGBTI community. Clients are able to be themselves in the space free from judgement, violence and discrimination that they usually experience in other places.  
What are some of the factors or experiences that can result in people who identify as trans becoming homeless? 
The trans community faces mental health issues that are not adequately addressed, and heightened abuse, discrimination, and violence. They also run into issues finding safe, appropriate housing due to landlords who are transphobic or uninformed. When you lack a physical address, your job stability is also hindered. These are just some of the contributing factors.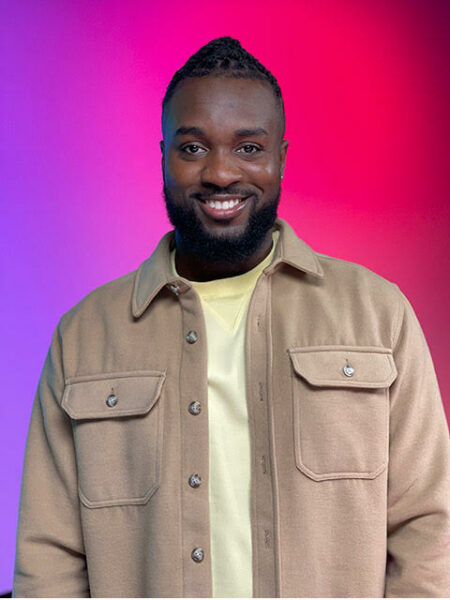 Elton McDuffus, Site Manager
Why is it important that this is also a shelter for refugees?
Refugees and/or newcomers who are new to Canada, need a safe haven to protect them from the harsh Canadian winters, along with a safe space for expression so they can be comfortable in accepting and being themselves. Some of our clients are escaping violence and trauma because of their gender or sexual orientation. So, a refugee shelter that caters to not only refugees but also people of this specific demographic (LGBTI2S+) is unique and important. I would say that we need more spaces like these to foster more care and support to this community whom is often underserved.
What resources are lacking in Toronto to cater to the trans community, particularly those who are homeless?
There is a huge lack of affordable housing in our city. There also aren't enough health supports, care and treatment specifically catered for this population. There needs to be more adequate information and resources about the services afforded to the trans community in Toronto, in addition to job opportunities.
What support do we specifically offer to these clients?
Some of the services include but are not limited to;
Our partnership with 519, which provides settlement services and support groups. The 519 also assists heavily with programming and activities.
Basic counseling and counseling referrals
Additional partnerships that provides services to make our clients feel valued, like makeover, haircuts and styling
Connecting with OW and ODSP
What else would you like people to know about the community you serve?
The community that we serve is resilient, brave, courageous and loving. The name of the space will change soon, and the clients along with The 519 will be leading the charge to name the site. I have always promoted a safe space for diversity and inclusion, so to show up each day to work in this environment is meaningful, purpose driven and satisfying. One of the mantras I lead with is each one, help one.
Want to support the work that we do? Click here to make an impact.