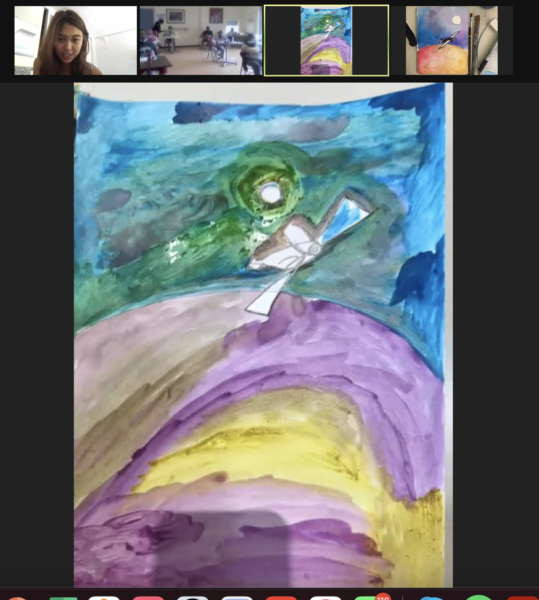 During COVID-19 we have continued to provide volunteer-led  programming to our residents thanks to some amazing individuals who have offered remote workshops to our residents. Helena Zhang began teaching virtual art classes in 2020 to residents at Kennedy Women's Shelter, and now runs weekly virtual art classes at our Lake Shore shelter.
     Read our Q&A with Helena! 
Why did you choose to volunteer with Homes First?
I believe that everyone should have a home. Growing up, I used to
pass a couple of people without a home on my way to school. I thought that it was unfair that I had a lunch box and they may not, so I used to give a man on the corner of Eglington and Yonge mine. This then snowballed into volunteering at Out of the Cold and giving buttered bagels away, around downtown Toronto.
During this time, I learned about Homes First. I always wanted to do more  to fight against homelessness, and I admired the way that Homes First was making a difference in so many lives. Moreover, the specific work that Homes First does is very inspiring – the staff are kind, they call their residents by their names, and the agency not only provides a home, but so many more supportive services from health to employment services.
 Do you have a personal connection to our mission that you would like to     share?
I care a lot the addressing the experience of homelessness and I hope to dedicate my life to doing so. Since graduating from Stanford, I received a fellowship from my school to work at LifeMoves for a year. I am learning about entanglement between health burdens and living without a home – the work of Homes First is addressing the experience of homelessness from all sides. While giving everyone a home, medical and psychiatric services are offered, to really address these entanglements.
I hope to become a physician and work with close alignment to the mission of Homes First. Alongside providing art classes, I have goals of contributing to the medical services that are offered.
What have you personally gained from volunteering?
 
I love teaching – and I especially love teaching art. Being able to share an activity that has been my outlet since childhood is special. I love seeing the same people show up to class each week, and it means a lot when someone is proud of their work. And while art is known to be healing, it's really meaningful to see how it can empower people.
What do you love most about volunteering with Homes First?
I love the people; the staff are all so encouraging and supportive. And among the class, there's a real community. Everyone is always building each other up.
What has been your biggest takeaway from your volunteer experience?  
I have learned so much about the way art can empower others but what I didn't expect to learn is: the importance of meeting people where they are, which the staff members always do. In echo, I always make sure to ask everyone about their day and week, and to really listen in on how they are feeling before the class begins. During these moments, I am better able to design and teach a class that incorporates where people are at. Moreover, really listening to what the class has to say has helped me provide better classes – by making sure that the materials I am using matches the ones that they are using, and to make drawings that are aligned
with their interests.
What are the challenges of volunteering remotely and how have you been able to overcome it?
It is true that connecting with people is a lot easier in person,
however, volunteering remotely has been such a creative process. The setup makes it look like I am truly teaching a class – with a camera pointing to the room of people, and with my camera centered on my drawing. Setting up these art classes has been such a creative process, in itself.
To overcome the difficulty of connecting to others virtually, I
have learned to spend time at the beginning and end of class, to talk and
listen to the staff and class. 
                                                      ***
Interested in volunteering with us?  E-mail volunteer@homesfirst.on.ca!